The advantages of wave energy over wind and solar energy
Wave energy produces a much more levelised energy supply than wind and solar as demonstrated in the figure. The power supply curves in the figure are typical of wave vs wind vs solar for a location off southern Australia and show that both wind and solar are highly fluctuating, which increases the requirements to use electrical storage or gas turbines in combination with wind and solar to provide a level base load.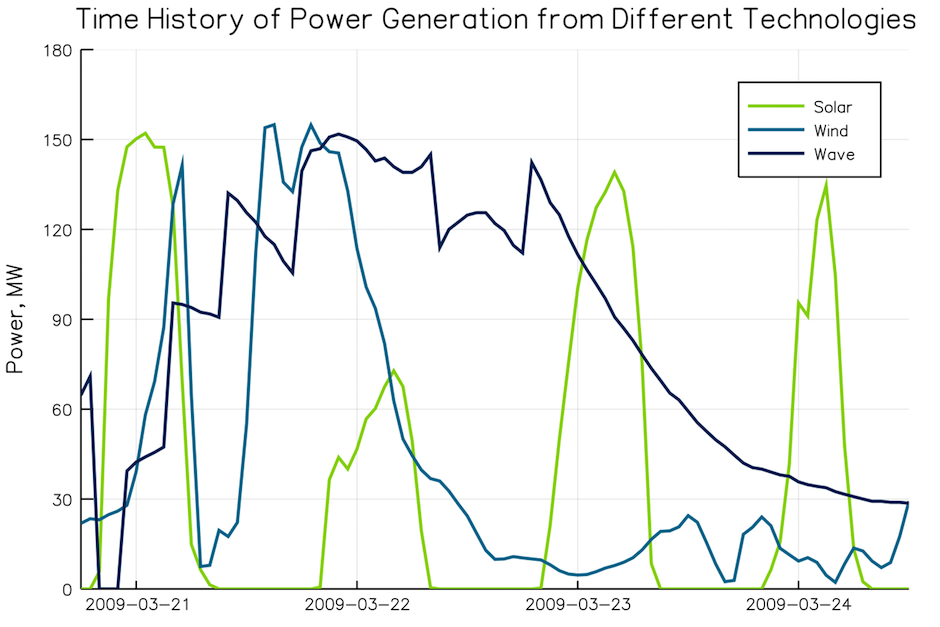 The competitive wave energy landscape - what are the advantages of AMOG's solution?
Many of the existing Wave Energy Converter (WEC) offers are yet to be fully or successfully commercialised. AMOG has developed a new WEC that offers several advantages over these existing products in this area.
A full scale 25m long AMOG WEC is anticipated to produce a peak output power of 2MW in the right wave conditions. If the AMOG WEC takes up 10% of the available wave energy market in Australia (due to competition in wave energy devices), this results in 450 units for Australia alone. Nationally, this technology has the potential to be installed in regions like Western Australia, South Australia, Tasmania, and Victoria.
The base for AMOG's design is a 25m floating vessel with a damped pendulum, the latter based on the principles of Dynamic Vibration Absorbers (also known as Tuned Mass Dampers) which have been used in many technologies since ~1900, including car engines, bridges, cable structures, and even hand-held electrical shavers. In the case of AMOG's WEC, the system is tuned to maximise power from incoming waves, extracting energy from the the pendulum damping via electromotive force (EMF).
This design delivers:
Simplicity.
The novelty of the concept offers tremendous reliability advantages that have plagued other products - the only mechanical moving part is the pendulum connection.
Lower Cost.
Use of wholly Commercial Off The Shelf components (COTS) keeps construction costs low and it is inexpensive to install.
Survivability.
In survival conditions the mode of operation changes to minimise platform motion. With years of mooring technology experience, AMOG is also investigating release scenarios to enable the vessel to weathervane.
Experience.
AMOG has been working in the floating offshore oil and gas industry for more than 25 years.
If you would like more information on AMOG's WEC, or are interested in investing or in partering with AMOG on this project, please contact Dr Hayden Marcollo on +61 3 9542 3700.
The gallery below illustrates some of the earlier designs and how AMOG's WEC has evolved.
Click here for more pictures of AMOG's WEC
AMOG's Wave Energy Converter is protected by patents (pending).
(*) CSIRO Report Ocean Renewable Energy: 2015-2050